Coffee, Chat and Community
Following our "Stepping into the Future" meeting, lots of people expressed an interest in hosting coffee morning (or afternoon) gatherings with a specific focus e.g a beetle drive, playing board games, or music events. If you feel you could help with this sort of gathering, there will be a meeting after the morning service on Sunday 26th November to plan
some dates and times for next year, hopefully. If you are interested but unable to attend, please speak to Reverend Debra. The idea is that these gatherings will be open to the wider community – and the more people willing to help, the better.
The Advent Event
Make a date now for our Advent Event, in church on Thursday 14th December at 7.30pm. It's an evening of readings, reflection and singing, on the theme "Follow the Star – Join the Song", led by our three home group leaders.
The Shoebox Appeal
The 'Shoebox Appeal' to send Christmas gifts to needy children in many countries is operating again this year: please contact Rev Rodney Green ffurther information. Specially made DIY boxes are available in church along with a list of what you can include (and what NOT to put in), and completed boxes should be returned by Sunday 12th November.
Please note . . .
Thursday Holy Communion services are to be held at St. John's at 10.30am on 16th and 30th November (and 7th December), and at St. Michael's Flixton at 10.15am on 9th and 23rd November.
A "Service of Remembrance for Lives Cut Short" is at Manchester Cathedral on Thursday 9th November at 7.30pm. Poems, prayers, readings, music, and songs are chosen and voiced by people who have experienced bereavement through homicide. More information on 07757 411 377 or email st.gab.prest@gmail.com
Sunday 12th November is Remembrance Sunday and we shall observe the customary two minutes' silence in memory of those who died in war, during our 10.30am service in church.
The North Trafford Mission Community prayer gathering for November is at All Saints on Tuesday 14th November, at 2pm. It's a time to gather with our sisters and brothers from other churches and pray for them and for our community.
Urmston Choral Society's Christmas Concert is at St John's on Saturday 2nd December, from 2.30pm. Tickets priced £8 (£2 for students or children) are available from Maxine Summers, tel. 07961 121 637 (or leave a message on 0161 748 0903).
Our "Messy Christingle" will be held on Sunday 10th December, from 2.30 to 4pm.
Our Carols by Candlelight service, jointly with Flixton Fellowship Church, is on Sunday 17th December, at 6.30pm.
The St. John's afternoon football project recommenced on Sunday, 10th September and will operate most Sunday afternoons. This is suitable for girls and boys aged 6 to 11 years.
NEW FACEBOOK PAGE
St. John's in Flixton now has a new Facebook page – search St. John's Flixton for regular Facebook updates on events and activities taking place in church. Please "like" the page and encourage neighbours, family and friends to do the same to help us grow our followers.
ST. JOHN'S WEBSITE
St. John's Church has it's own website – www.stjohnsflixton.org.uk – which gives latest news and comprehensive information about life at St. John's and links to many community and spiritual organisations.
---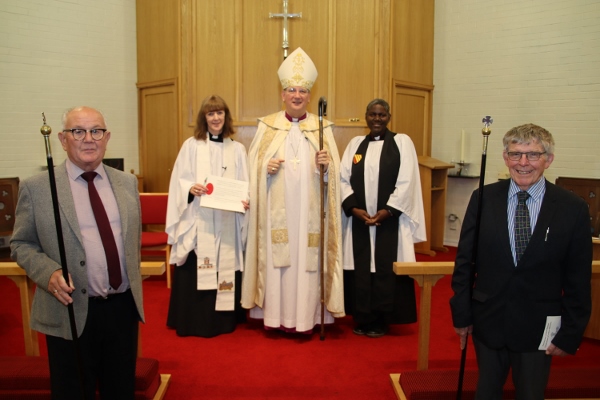 Licensing of Rev Debra Blair as Incumbent of St John's
The Rev Debra Blair was licensed as the Incumbent of St John's Flixton on Sunday 23rd October 2022, in a service at St John's led by the Bishop of Middleton, the Rt. Rev. Mark Davies, and the Archdeacon of Manchester, the Ven. Karen Lund. Guests were welcomed from both our parish and the wider church in our area for this special celebration of a new phase of ministry.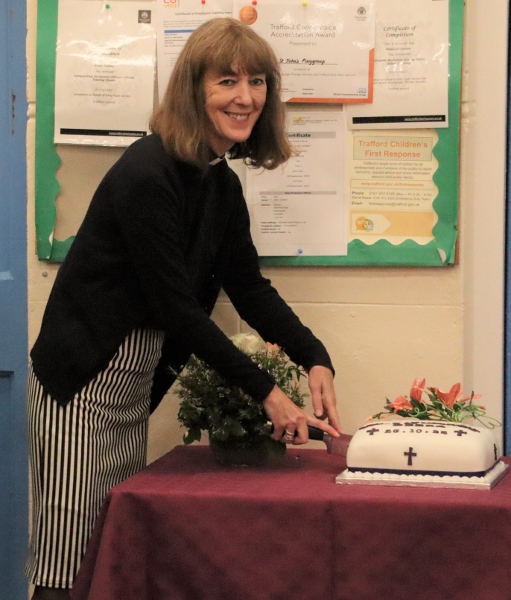 ---
St John's Football Project
Our football coaching club with a Christian message, supported by Ambassadors Football (ambassadorsfootball.org), is at 2pm on Sunday afternoons at St John's. It's for boys and girls age 6 to 11.
---
Join the JC Squad!
'The J C Squad' is the new name for our Sunday School, and it runs at 10.30am during morning service. Children rejoin their parents in church at the end of the main service and often share with the whole congregation something of what they've been doing that day.
---
The Annual Parochial Church Meeting 2023 was held on Sunday 16th April. The Annual Report and Financial Statements for 2022 are available here. The Churchwardens' Report is available here. The Deanery Synod Report is available here.
---