St John's congregation, celebrating 50 years. BELOW RIGHT: The church under construction in 1967, and as we are today
In 2018 it was 50 years since the new St John's Church was built in Flixton, so it was a very special year here.
We had a series of celebration events, including Holy Week shared with our 'parent' church of St Mich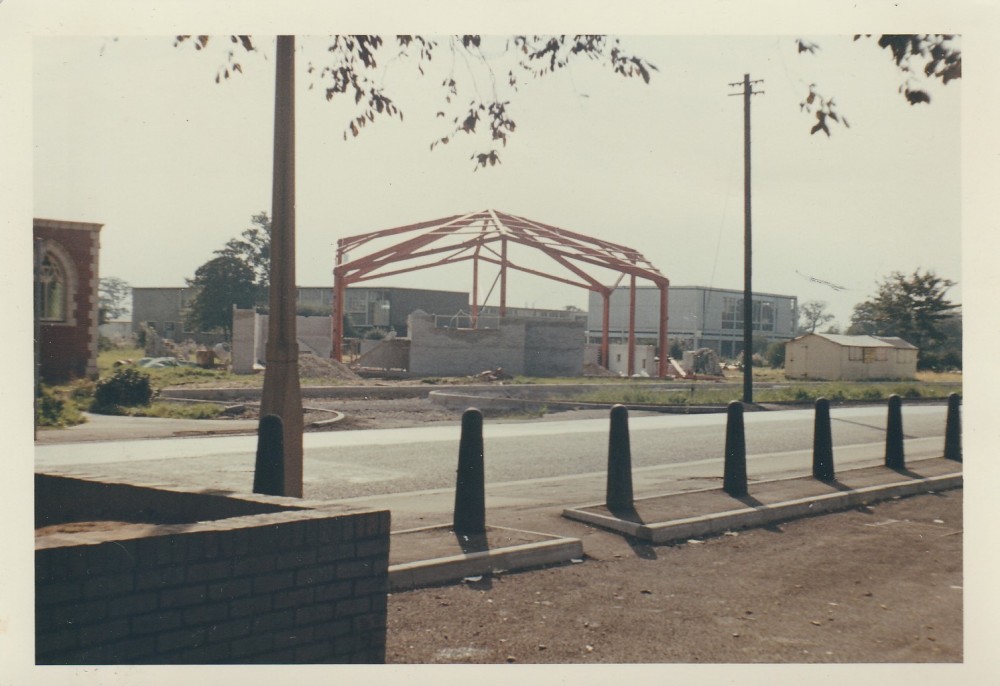 ael's, Flixton, with the Bishop of Middleton, the Rt Rev Mark Davies, joining us for the entire week.
Other visitors included the Rev Barry Hobson, from Hornchurch in Essex, who first came to faith at St John's, the Rev Cat Thatcher, who grew up in our congregation, and the Bishop of Manchester, the Rt Rev David Walker, in July to celebrate with us and St Michael's and to give the 'Flixton Lecture' at St John's.
We also welcomed the Rev Huw Thomas, vicar of St Michael's Flixton, to St John's, as our first guest preacher of the year.
Other events included visits from Urmston Choral Society, a service for Ascension Day shared with other Christians from the Urmston area, and a Pentecost Sunday (20th May) visit from the Bishop of Midd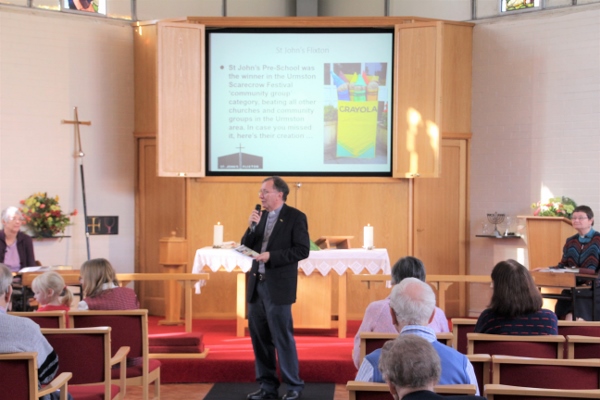 leton and the Mayor of Trafford to celebrate not just the 50th birthday of St John's but also the birthday of the Christian church.
Our intention all along was that this should be not only about the anniversary of a building but of all that God has done over 50 years, and an invitation to our neighbours in Flixton to find the reality behind our celebration—that Jesus has changed lives, and that He's still doing it today.
You can hear recordings of some of the key moments from our special anniversary events on the 'Listen In' page on this website - http://www.stjohnsflixton.org.uk/media/
HOW FLIXTON GOT ITS NEW CHURCH
In 1925, the Rector of St Michael's Flixton, the Rev John Jolly, and his PCC decided to build a 'Mission Church' for the Woodsend part of the parish of Flixton. It cost £4,850, and was opened for regular services on 8th February, 1931. New housing was built around the mission in the 1950s, and St Michael's raised money for a new building. Contributions of 6d (2½p) a week were sought. The 'Mission' was given the name of St John's in 1956.
The church formed its first Parochial Church Council on 26th January, 1964. Building the new church was on its agendas from the start. Manchester University architecture lecturer Dr Raymond B Wood-Jones undertook to produce plans for 'a good church that could be built in an economic manner for £8,000 or £9,000' (it turned out to be twice as much, but St John's raised £12,000 and got some help from the diocese of Manchester).
'Cutting of the Turf' took place on Whit Sunday, 14th May, 1967, with the Bishop of Hulme, Kenneth Ramsey. Work began the following month, and a 'Buy a Brick' (for 6d) scheme was launched. The cross at the roof apex was in position by 8th December. A service was held in snowy weather in the part-built church on 9th December, to dedicate four special stones on the interior—still visible today.
The church was consecrated on 30th March, 1968, by Dr William Greer, Bishop of Manchester, with over 600 people present. First vicar of St John's, the Rev Fred Cooke, said: 'We build today a meeting place, both homely and holy, where Christians can meet to seek their common inspiration…'